Blog
Quick Check in with District 9 about TIHC 2011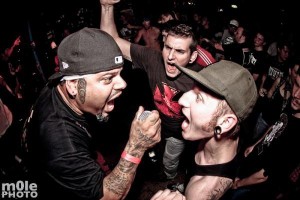 Who is playing in District 9 for the TIHC show?
Puerto Rican Myke: its P.R.MYKE, CESAR D9 AND NOVA CEEZ EVERYTHING, LENNY OF D9 AND FARENHEIT 451, TODD OF D9,WARZONE AND VISION, AND LOU OF D9, BREAKDOWN, AND ALL OUT WAR..
Why did you want to play This Is Hardcore?
PRM: We wanted to play This Is Hardcore because it's been a while "about 4 years " since we last played and thought it would be dope to play Philadelphia since D9 has never played anywhere passed Jersey…
Who else are you excited to see on the Fest?
PRM: I'm psyched to see TERROR….. Scott's my boy ..also wanna check out BLACKLISTED ….. WISH I COILD MAKE IT TO SEE MADBALL ,MAX PENALTY, AND MY FAVE BAND OF ALL.. KILLING TIME….
Most memorable District 9 moment?
PRM: I guess the most memorable D9 moment would be putting out that 7″ cuz I don't remember anything else from the past 17 years. I can't even believe shit's been out that long …. hope ppl are psyched to see us cuz were psyched to play…………one love
Check back every couple days…we will have more check ins and interviews with the bands playing This Is Hardcore 2011