Blog
TIH2013 Second Announcement is here!!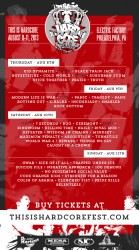 Ah! Its May and we're back with more bands for This Is Hardcore 2013.
We've held out on 6 bands scattered across 4 days and we'll tell the world the bit of bands in 2 weeks.
In the meantime lets get excited about Sick Of It All finally playing TIH!!! Returning to TIH after a few years off are our friends in Ceremony….We also have annual fan favorites Cold World and Wisdom In Chains keeping the PAHC scene on top at TIH. H20, Bane , Ringworm and Rival Mob can't seem to say no to TIH, the last 3 years have been great sets for those bands.
Defeater is making their TIH Debut while No Redeeming Social Value is performing a 25th anniversary set with the return of Mike Dixon, original part of the vocal duo. This is not a reunion but the band hasn't performed with Mike since '97. NYHC legends Absolution are set to show the new generation what the Old School has to offer..
This year's fest has plenty of other planned activities that will be disclosed in early June.
In the meantime – get your tickets now.
www.thisishardcorefest.com/
facebook.com/thisishardcorefest
follow us on twitter – @TIHCfest
Instagram- @thisishardcorefest