Blog
TIHC 2013 Announcement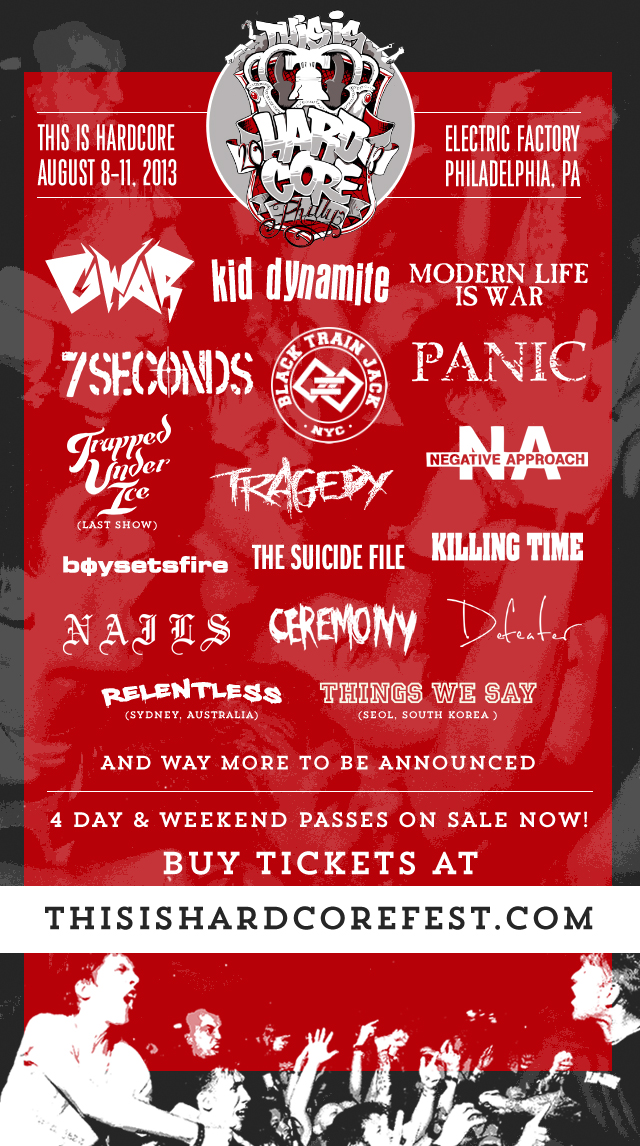 No April Fool's joke here, folks! This is the beginning of the 8th installment of This Is Hardcore Fest: four days where we turn the biggest rock venue in Philadelphia into the nation's biggest hardcore show. After expanding into our new venue, it was time to invite back some old friends of the fest and bring in some new names and faces to continue to raise the bar that has been set each year by TIH.
GWAR has held off for seven years but has since decided it's time to come to TIH and destroy, enslave or devour most of the hardcore scene.
Kid Dynamite returns to TIH after playing their first TIH set back in 2010. This time around, they will be playing their entire debut self-titled LP from Jade Tree along with a special mini set of covers.
Modern Life is War has returned and TIH 2013 will be their first show back, with a new record coming out on Deathwish later this year.
Boston-bred but Philly's favorite, Panic, are returning – and TIH will be nothing short of the perfect homecoming.
Earlier this year, Trapped Under Ice announced that TIH 2013 will be their last performance before going on a long hiatus, while 7 Seconds makes their first appearance at TIH and on the east coast in some time.
After seven years and a growing amount of support for TIH worldwide, it was time that we put some overseas bands on the roster to return the love and support given to our friends from Asia and Australia. Relentless from Sydney, Australia have toured with everyone from Terror to Trapped Under Ice and will be in the states with Rotting Out this summer. Things We Say is a newer positive hc band from Seoul, South Korea who shares members of The Geeks. TWS will be out in the US for a short tour in the Northeast and parts of Canada with REACT's Caught In A Crowd, ending at TIH2013. Black Train Jack, having previously announced a performance at this year's BNB Bowl, will make their home-away-from-home return to Philly, while Delaware's boysetsfire make their TIH debut along with Tragedy, who have been requested by TIH loyal fans for years. We can't forget that some of the big names from last year's fest were Nails, who will again make an exclusive appearance along with NYHC legends Killing Time as well as Negative Approach, all of which had sets that are still being heralded as the best of TIH 2012.
This is only the first installment of bands and an early chance to pick up Festival and Weekend passes..
We have plenty more on the bill across all four days and will be releasing more names in May along with single day tickets.
In addition to 50 bands, we will have a new update on our smartphone app, to include Android phones. If you have an IPhone, you can download the app for free under the name "This Is Hardcore." You can also expect more info on food trucks, extra shows and more when we have our full announcement next month…
Thank you very much for the support, and we can't wait to let you in on the rest of TIH 2013!
Purchase tickets at www.thisishardcorefest.com
Download our IPhone app (soon to include Android) by searching for "This Is Hardcore"
www.facebook.com/thisishardcorefest
twitter.com/TIHCfest
instagram @thisishardcorefest