Blog
Sean and YoungBlood Records check in with TIH
When TIH was starting out, I had to look to the guys who were running the labels for help, insight and support. Sean Odonnell from Youngblood was one of the first labels to come aboard and support us. I love the bands he puts out, I love the quality of the records and merch and the integrity that goes into his label. I am glad that he's been there for us for 6 years straight. Check out what they're bringing to TIH this year…


We are really excited to be doing a table at This Is Hardcore for our 6th year in a row and we've been really busy getting a whole slew of new stuff together in time for the fest. We'd show you pictures but everything is either en route or being printed/pressed as I type this! The list below will have to do:
Face Reality "S/T" 7″ Pre-Press (???
We will have a special pre-press of Face Reality's debut on Youngblood Records with a limited pre-release cover. The pressing plant pressed the records a few hours ago and will be over-nighting them to us. Fingers crossed that they get here in time. Nothing like cutting it close!
Youngblood 2011 Cassette
This pro-copied Chrome Audio Cassette is as a sampler of what we have to offer in 2011. Six tracks total, one track each from No Tolerance, Face Reality, Give, Police & Thieves, Sacred Love and Mob Mentality. Limited to 100 and fun as hell to listen to. Reason enough to get a tape deck.
Justice "Escapades" LP Final Press LTD to 100
Back in 2007 when we initially released the US Vinyl version of "Escapades" the printer shorted us by 100 covers. Since then we've had 100 cover-less white vinyl copies sitting dormant here at YBHQ. We have enlisted our friends at Jump Start Screenprinting to hand-screen covers. We haven't seen the finished product yet but Jeremy at Jump Start reports that they look awesome.
Sacred Love "Dividing Lines" 12″ EP Red Vinyl
We pressed 200 on Red and held back 35 copies for This Is Hardcore 2011.
Youngblood Records Tank Top
Last year, we screened up Youngblood tank tops for This Is Hardcore 2010 and they sold out quickly at the fest. We've printed up 36 more in a bunch of colorways.
3 Brand New Youngblood Records Shirt Designs
3 different shirt designs for one record label? Overkill? Yeah maybe, but all 3 designs are incredible in their own way. We couldn't pick just one so we made all 3. We will also have shirts from Youngblood bands: Face Reality, Sacred Love, Mob Mentality & Police & Thieves.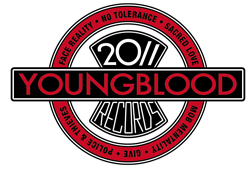 Some Out Of Print Youngblood Release On Colored Vinyl
There always seems to be an extra colored copy or two hiding out around here. We've cleaned out the basement and have found a few handfuls of YB stuff on colored.
I think that covers it. Swing by our table and be sure to check out the two-band Youngblood Block this Thursday at This Is Hardcore. Face Reality and Sacred Love will be representing Youngblood this year!
YOU CAN FIND YOUNGBLOOD IN THE MAIN ROOM OF TIH IN THE STARLIGHT BALLROOM ALL 3 DAYS OF THIS IS HARDCORE!!!!