Blog
This Is Hardcore 2012- Get ready for a new venue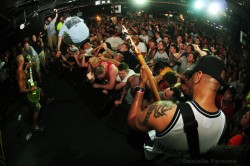 I'll be posting shortly the full venue info but WE ARE MOVING.
It was a decision that wasn't rushed and has been coming up each year as the sellout years happened faster and faster.
We've found a venue that gives us the space for more people without feeling like its TOO BIG or not a Hardcore Show anymore.
Everything we've worked for will continue on pace with the new place and we'll be able to divulge alot of the stuff for this year in a few days/week.
In the meantime I can say that its in the same area of the Fest so you won't have to worry about hotels.
It will be still be stagediving friendly and we're not even entertaining adding some weird bands that don't fit what we've been booking over the past 6 years.
We'll have a great area to chill at between bands and I'll have more info on stuff that will happen outside shortly.
In the meantime just know that for the first time in a couple years, There is a better chance of getting tickets to the fest and this lineup is something unreal so we're happy putting it on in a bigger room.
Stay tuned